Master Tary Yip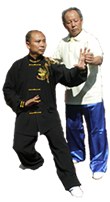 Tary came from a family also with a deep martial arts root, his great grand father is one of the famous Chow Gar Praying Mantis teachers in Hong Kong. Tary started his martial arts training at as a teenager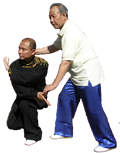 under Grand Master Simon Fan, one of the famous Praying Mantis teachers in the UK.Tary has practised and taught Southern Style Praying Mantis kung fu for over 20 years. He is a well know Southern style Kung Fu teacher.
Master Tary is the tradtional Sun Style Tai Chi, Yang Style Lineage Bearer and direct lineage to one of China best Wuang sword players, Li Jin Lin (regarded as the sword saint). Tary is one of the few direct lineaged masters to grand master Sun Lu tang and Yang Jian Hou in Europe.
Master Tary sutdied both traditional style under one of world's famous Tai Chi Grand Masters Professor Li De Yin, and in the last 20 years he has dedicated most of his practice and teaching on Traditional Yang and Sun style Taiji, Xing Yi, Taiji Kung Fu Fan and Wudang Sword. Tary was invited to judge in many martial arts competitions in the UK and has established close friendships with many martial arts teachers in the UK and abroad. Master Tary Yip has travelled regularly to conduct seminars to students in the UK, Spain, Gemany, Ireland, Australia, China and many other countries in the world. He has also been Chief Judge in many national and international Tai Chi festivals and competitions and has trained numberous UK national Tai Chi Champions.
Master Tary Yip is one of the leading teachers in Europe with in-depth knowledge and experience to teach Traditional Sun Style Tai Chi and Xing Yi Quan. He is also specialises in Yang style Tai Chi, Taiji Kung Fu Fan etc. He has also assisted Professor Li in translating some of his teaching video and voice them over into English and also performed break down demonstrations in professor Li's 32 step Taijijian dvd. He has also co-choreographed and structured The 38 Step Sun Style Short form, which is becoming widely practised. Master Tary has also traveled around the country and the United States assisting Professor Li in his seminars both on interpreting and teaching.
Master Tary, with his extensive connections in China and friendships with famous Tai Chi masters in China, has helped hundreds of Tai Chi students and numerous leading schools to travel and training with some of the best teachers in China. Since the set up of Deyin, Tary and Faye together have devoted most of their effort in promoting and teaching Tai Chi. After more than a decade of dedication in promoting Tai Chi, Faye and Tary's hard work and dedication has not been in vain. Some of Tary's students have achieved high standard in their Tai Chi Skills and went on to compete in numerous national competitions in the UK and won numerous gold medals. Deyin Taijiquan Institute (GB) is a member of the British Council for Chinese Martial Arts. Deyin is growing rapidly and there are six of Faye and Tary's students qualified as Deyin Taijiquan Institute instructors and many more, who are aiming to become Deyin instructors in the near future.
Master Tary has also extensive knowledge in Qigong practise and together with Faye, he founded the British Health Qigong Association to promote this unique system practised by millions of people throughout the world.
Master Tary is;
Founder & Chief Instructor - Deyin Taijiquan Institute
President - Wudang Wushu Association UK
Technical consultant and master teacher - Spanish Deyin Taijiquan Institute
Vice President - British Health Qigong Association
Chairman - Wudang Wushu Association (British Branch)
Chairman - Sports Association of UK Chinese Business Confederation
Chief Judge - British National Tai Chi Championships
National Coach (BCCMA) - British National Tai Chi Quan Team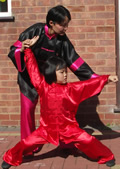 New Generation in the making!!
Faye and Tary are both working closely with many schools in the wolverhampton area such as Golthorn park Primary, Loxdale Primary etc. to promote health and discipline in the next generation of our society. Their daughter Kasha is about to carry the family tradition forward. At the age of 7, she has already trained in basic wushu for over 18 months and taking a great interest in this great Chinese treasure and tradition.