Tai Chi & Ethnic Culture Indulgence China 2024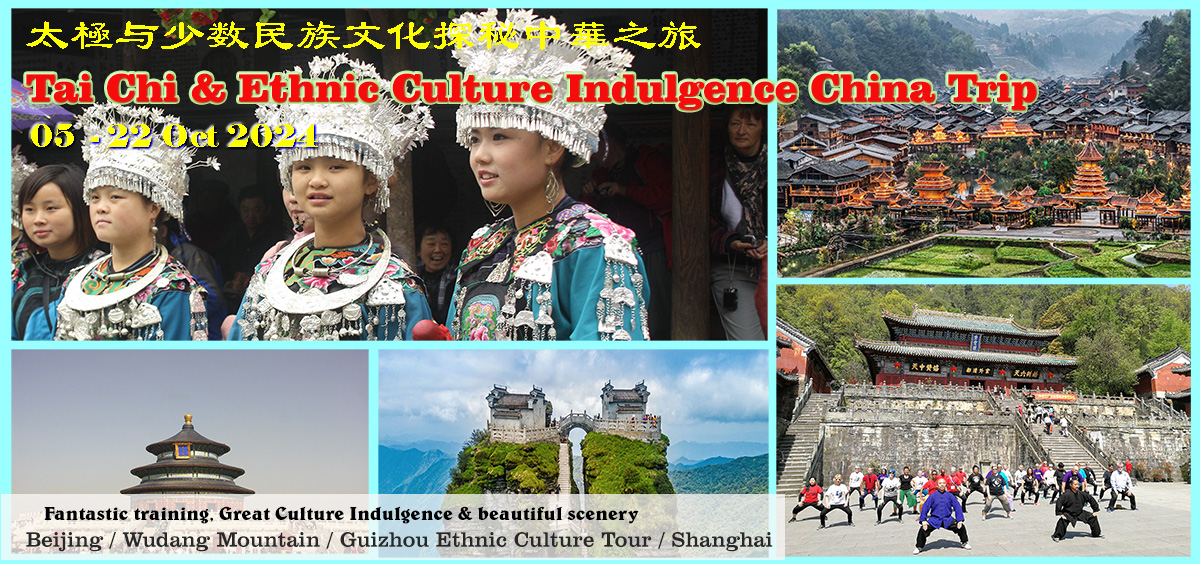 05-22 October 2024 / 18 days - £1895.00 - Early booking (before 29th Feb 2024)
£2095 - Standard booking (from 1st Mar 2024)
(Fees above Do Not Include international flights - either book yourself or we book for you - approx. costs £800.00 return)

Beijing / Wudang Moutain / Guizhou Ethnic Culture Indulgence / Shanghai

Deyin / BHQA members - £95 off
Overview

This trip covers some of the most breath-taking places and mind-blowing and soul-lifting ethnic cultures rarely seen by foreigners in China, beautiful mountains, heart touch culture of ethnic Miao and Tong, enlightening sacred temples, Tai Chi & Qigong exchange will guarantee this trip memory of a lifetime for participants.

This soul-searching journey begins in the Chinese capital of Beijing, a city with lots of cultures and beautiful traditional architecture. The Greatwall, Forbidden City, Temple of Heaven, etc, an exhibit of the royal splendour of the empire once existed. Following the exploration of the Beijing city culture, we travel to the sacred Doaist mountain, birthplace of Tai Chi, Mt. Wudang, where we will practise Tai Chi and Qigong in temples, cleansing our spirits on breathtaking summits and enjoy the magnificent scenery of nature.

As the mind, body, and spirit are cleansed and uplifted, it is time to travel to one of China's most ethnically and culturally diverse provinces "Guizhou". Guizhou has many ethnic groups including ethnic Miao, Dong, Dai, etc. We will travel to see traditional o

ld towns and ethnic villages to marvel at the thousand-year-old culture still shining in this part of the country.

The journey of culture will reach our final destination, the "New Pearl of the Orient" Shanghai. a city that witnesses the colonial era of China and sees the new rise of a great civilisation that is now bringing prosperity and harmony not only its own people but all over the world. We will visit some of Shanghai's great landmarks such as the Bund, canal old town, etc, and exchange with professors and students at one of the famous Sports universities in China, the Shanghai Sport University. Visits on the trip include;

Forbidden City, Temple of Heaven, and Summer palace in Beijing

Visit Beijing Sports university and exchange on Qigong

Ethnic Dong Village / Terraced Paddy Fields

Ethnic Miao Culture & Performances

Zhen Yuan Old town

Guiyang City (Capital of Guizhou)

Wudang Mountain - legendary birthplace of Tai Chi and Sacred Mountain for Daoism.

Shanghai (the Bund, Canal old town etc)

Visit Shanghai University of Sport and exchange with professors on Health Qigong.

Visit Chinese Martial Arts Museum

And more………. Tai Chi and Qigong practice to soothe the soul, enlighten the mind, strengthen the body, and boost physical wellness with Masters in China and Master Tary, one of the most renowned Tai Chi and Qigong masters in the UK and Europe. Training includes;

Sun and Yang Style Tai Chi practice and
Health Qigong Ma Wang Dui Dao Yin Shu and Ba Duan Jin (Eight Treasures) Health Qigong

Meditation and Standing Pole exercises.

This is going to be a trip with Culture, Spirit, Health, and Inspiration that promise to inspire all!

Note: This Tai Chi and Cultural exchange trip is non-profit-making trip organised by Deyin Taijiquan Institute (GB), appointing a number of Chinese travel companies & consultants to plan, manage and run the full itinerary in China. Deyin does not retain any money for profits and all fees (trip fees and flight costs) collected will be used totally to pay companies and consultants for the trip costs in China on the participants' behalf.