2024 China Trip - Itinerary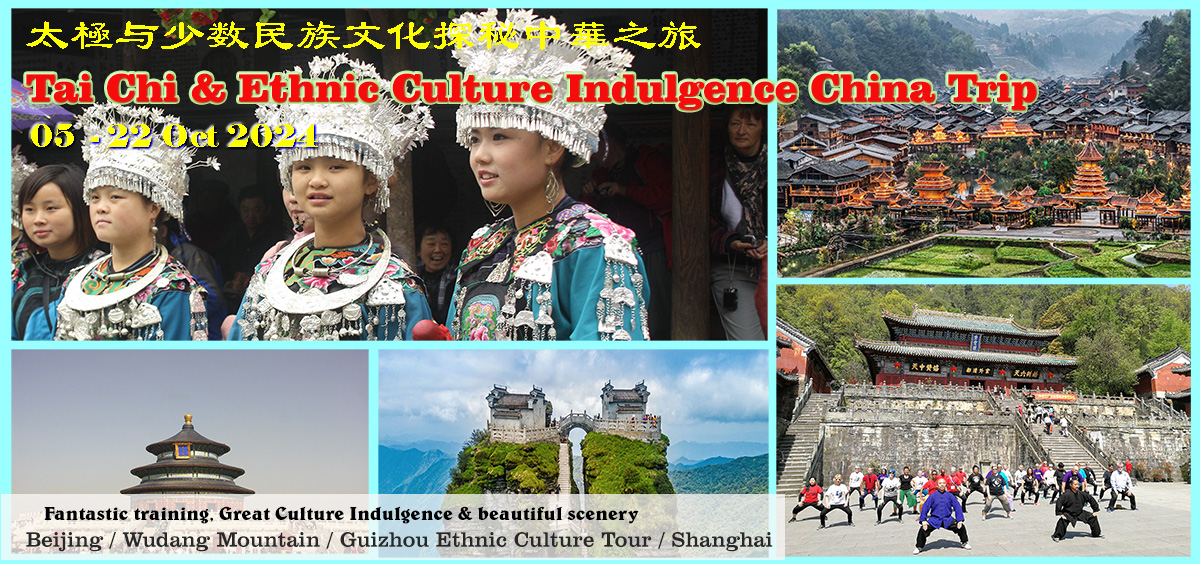 05-22 October 2024 / 18 days - £1895.00 - Early booking (before 29th Feb 2024)
£2095 - Standard booking (from 1st Mar 2024)
(Fees above Do Not Include international flights - either book yourself or we book for you - approx. costs £800.00 return)

Beijing / Wudang Moutain / Guizhou Ethnic Culture Indulgence / Shanghai

Deyin / BHQA members - £95 off
Meals (B = Breakfast, L=Lunch, D=Dinner) are included as specified below;
note: some breakfast and lunch could be simple and packed meals, this is subject to the hotel, place, or time

Day 1 –
Depart for China,

Day 2 – (L only)
Arrive in Beijing and check into hotel; Free time to relax and recoup.

Day 3 - B, L D Beijing
Morning visit to the Temple of Heaven and practice Tai Chi with local people. after lunch visit the world-famous Forbidden City and Silk Factory.

Day 4 – B, L, D Beijing
Tai Chi Qigong practice, Visit the Great Wall, one of the new seven wonders of the world, and the Jade Museum to see beautiful jade and how to segregate the real from the fakes. (optional £38) watch the Evening performance of Peking Opera.

Day 5 – B, L, D Beijing
Morning visit to the Summer Palace, royal garden with beautiful settings and biggest garden lake in the world. Tai Chi & Qigong practice in the summer palace. afternoon visit Beijing Sports University, one of the most respected sports organisations for Tai Chi and Qigong exercises.

Day 6 – B, L Wudang
Morning Tai Chi and Qigong Practice. Possible opportunity to meet with Professor Li Deyin one of China's most respected Tai Chi Guru (subject to his availability). Check out of the hotel and set off for the train station for a high-speed train to the sacred Mt. Wudang. Arrive in the evening and check into the hotel.

Day 7 – B, L, D Wudang

Morning Tai Chi & Qigong Practice (possibly with a Wudang Tai Chi Master) in a nearby temple. after lunch travel up to the hotel in the mountain. then visit South cliff palace Palace Temple and Carefree Valley. Early evening Health Qigong, Tai Chi, and Meditation.
Day 8 – B, L, D Wudang
Morning Qigong and Meditation (possibly with a Wudang Tai Chi Master). Visit Golden Summit (cable car up and walk down approx. 2.5 hrs. optional cable car down ¥90rmb per person)

Day 9 – B, L, D Wudang
Morning Health Qigong, Tai Chi and Meditation (8.30am – 11.30am). Visit to Purple Heaven temple, then have free time to visit, shop, or just simply relax and enjoy the

beautiful scenery this mountain offers.

Day 10 – B, L Wudang - Guiyang
Morning travel down the mountain and coach journey to Xiangyang where we will take the high-speed train to the capital city of Guizhou, Guiyang City. Check into the hotel and rest for the day.

Day 11 - B, L, D Guiyang
Morning Tai Chi in the park. Visit theQian Ling Shan Park, a park with beautiful settings and lovely wild monkeys. it is a great place to experience Tai Chi in the park. Afternoon more local sightseeing activity.

Day 12 - B, L, D Ethnic Miao Village
Travel by coach (3.5hrs) to another unique ethnic group "Miao", although the Miao people have quite unique ethnic makeup and culture. we will explore leisurely one of the biggest Miao villages in China and enjoy the beautiful wooden house and also their unique culture.

Day 13 – B, (L not included), D Ethnic Dong Village
Morning Tai chi & Qiong practice, then coach journey (4hr) to see one of China's most unique landscapes, the "Tier Paddy Field" develop along the steep rise of the hill. after we will visit the ethnic Dong village, where we will see the organic live style of the ethnic minority and hopefully see a performance of dances and songs of how Dong people celebrate harvest and peace.

Day 14 – B, Zhen Yuan Old Town
Morning Tai Chi and Qigong Practice (8.30 - 11am), after we will travel to one of China's most traditional old towns "Zhen Yuan", where we will stay for the night and for our members to enjoy the local life and scenery at their leisure.

Day 15 – B, L, D Guiyang - Shanghai
Morning Tai Chi & Qigong Practice, travel to Guiyang for a flight to Shanghai.

Day 16 – B, L, D, Shanghai
Visit the Shanghai Sports University and exchange with professors and students and practice Health Qigong. visit the Chinese Martial Arts Museum.

Day 17 – B, (L not included) , D Shanghai
Morning Tai Chi and Qigong practice, Visit the famous Bund and Yu Yuan - the stately home of an aristocrat in the Qing dynasty.

Day 18 – B, Shanghai
We fly home today after a great exchange and holiday.

The itinerary is subject to change due to unanticipated circumstances. In the unlikely event, that a sight, activity, or training is not available, we will substitute it with suitable alternatives without prior notice. Please also be aware that Trains/flights and other transports are also subject to change without prior notice.

Note: Please schedule one/two days at both ends of the trip in your holiday plan in case we have to change flight dates and times.

Note: This Tai Chi and Cultural exchange trip is a non-profit-making trip organised by Deyin Taijiquan Institute (GB), appointing a number of Chinese travel companies & consultants to plan, manage and run the full itinerary in China. Deyin does not retain any money for profits and all fees (trip fees and flight costs) collected will be used totally to pay companies and consultants for the trip costs in China on the participants' behalf.